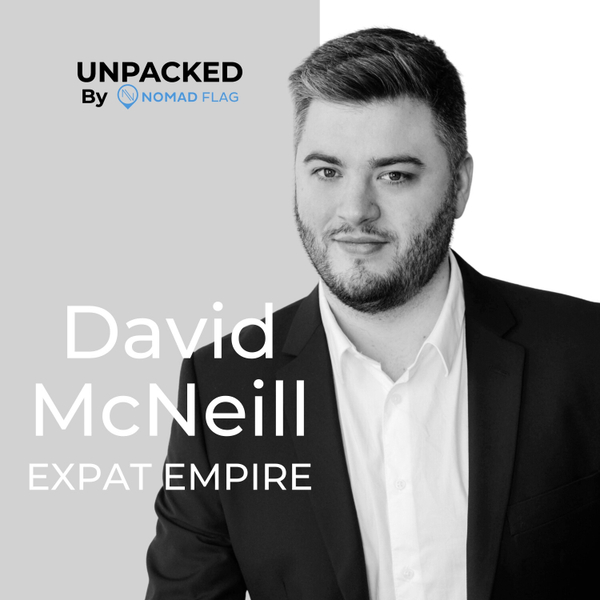 Travel entrepreneur David McNeill runs Expat Empire and currently lives in Portugal. His company helps expats get residency in another country, handle taxation, and find housing and work.
David has been living just outside of Porto for several years with his Japanese wife. He previously lived in Japan and Germany and has traveled extensively. David is originally from the United States and mostly works with US expats.
📍 On moving to Portugal
"We decided to take a trip (to Portugal) in 2018 and we thought, "this is the spot". This is amazing. We loved the nice warm, friendly people - English speaking at a high level - great weather, great food. And we just felt super comfortable. So many people are hearing about Portugal…and are really falling in love with the place. And it's quite open to people from all different situations and backgrounds."
📍 On Porto vs Lisbon for living
"it was a difficult decision but I think we always thought that Porto was maybe a little more beautiful. All of this is subjective, but we kind of like the vibe here. On the other hand, I thought there's probably more international English-speaking job opportunities in Lisbon. But when it came down to it and I got the job in Porto, I was more than happy to take that opportunity. I'm really happy that we're in Porto. And of course, Lisbon is only three and a half hours by bus."
📍 On leaving Berlin for Porto
"What we were leaving in Berlin was not only the coldness of the weather but also this big city, a bit dirty DIY kind of punkish scene, which at the first, at the beginning was great. But after a couple of years, got a little bit old. Here we're just able to slow down, take it easier, learn to kind of go with the flow. It's cleaner and the people are super welcoming and friendly".
📍 On the joys of exploring Tokyo
"In Tokyo, there was just so much to explore. And of course, if you're an active walker or explore or adventurer, even in your own city, there's always so much more to see. There is great people-watching and small alleyways to explore. It took me many months or even the whole two years that I was there to really try to figure out Tokyo, whereas here in Porto, it maybe took a couple of weeks".
📍 On advising clients about moving locations
"What I try to do with some clients that are thinking about which country to move to is to give them a data-driven approach. And of course, I use some of the more reliable rankings for a variety of different aspects and metrics. But they're not always looking at some of the figures around things like safety. And people that are concerned about those things."
📍 On the Expat Empire business
"The idea is to inspire and help people to move all around the world and we try to help anyone move anywhere as best as we can. We're not immigration officers but we try to give as much advice as we can to people that are looking to, for example, find a new job abroad, start their international careers or become location independent digital nomads, and naturally people that are retiring abroad as well.
We help people look at different destinations in terms of countries or cities and different potential visa routes. And we put together personalized timelines and checklists of all the things they need to do between now and when they settle into the country. We also do coaching and work with our network of partners around the world to help people with their tax situation, visas, or housing"
Resources
Links
Places mentioned
Porto, Portugal
Matosinhos, Portugal
Lisbon, Portugal
Tokyo, Japan
Vietnam
Berlin, Germany
Cascais, Portugal
Sofia, Bulgaria
Budapest, Hungary
Unpacked Travel Podcast - Travel Entrepreneurs
A podcast about travel entrepreneurs - Interviews with people that run interesting businesses in the world of travel. Advice on travel entrepreneurship. Stories about creating a sustainable business from travel.